A no-fuss version! No transferring to ramekins, no nothing! Make everything into a ONE POT WONER and serve. So easy. SO GOOD!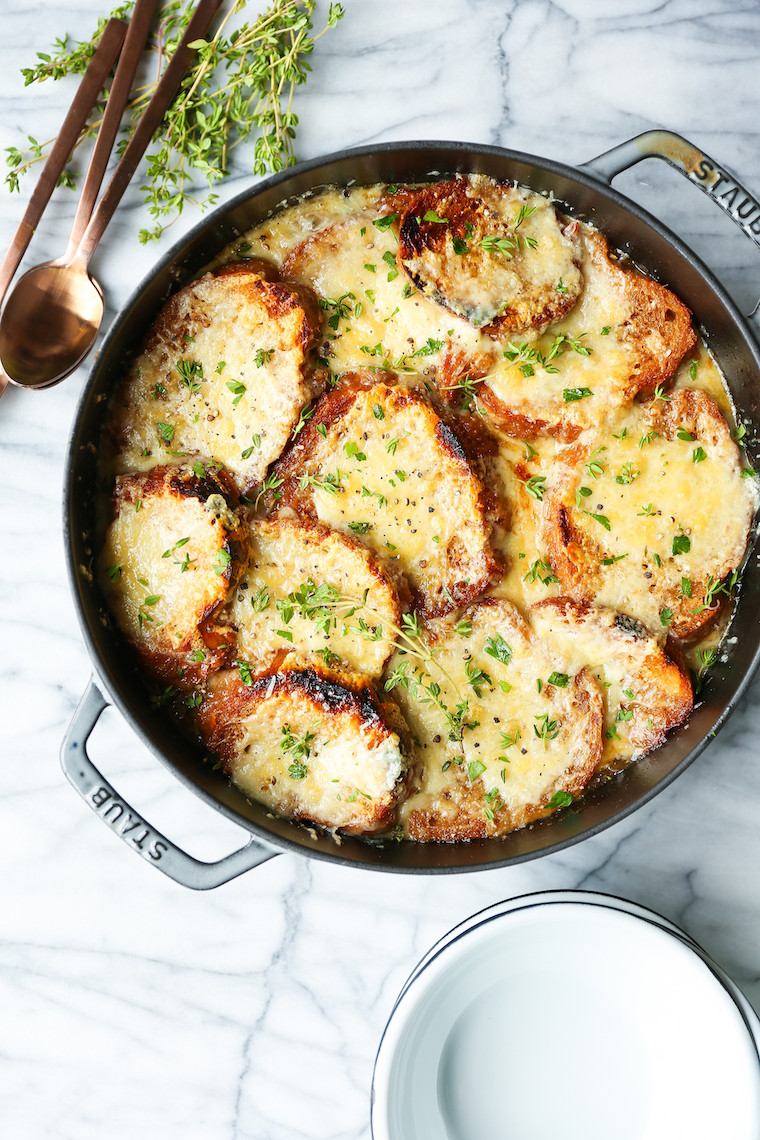 Greetings from Indy!
We were supposed to get on a flight to Philadelphia this weekend – bags were packed and we were ready to roll. But as we waited by the gate, the flight kept getting delayed due to "mechanical issues". I already have anxiety with flying so I grabbed my bags, my corgi and drove back home. And it was the best decision ever.
So instead, we picked up a box of Firecakes Donuts and drove down to Indianapolis to spend Father's Day with Ben's family. You know, in the rainstorms and all the tornado warnings. We took cover in his parents' basement with a box of La Croix, Bud Light, and White Claw.
We were set.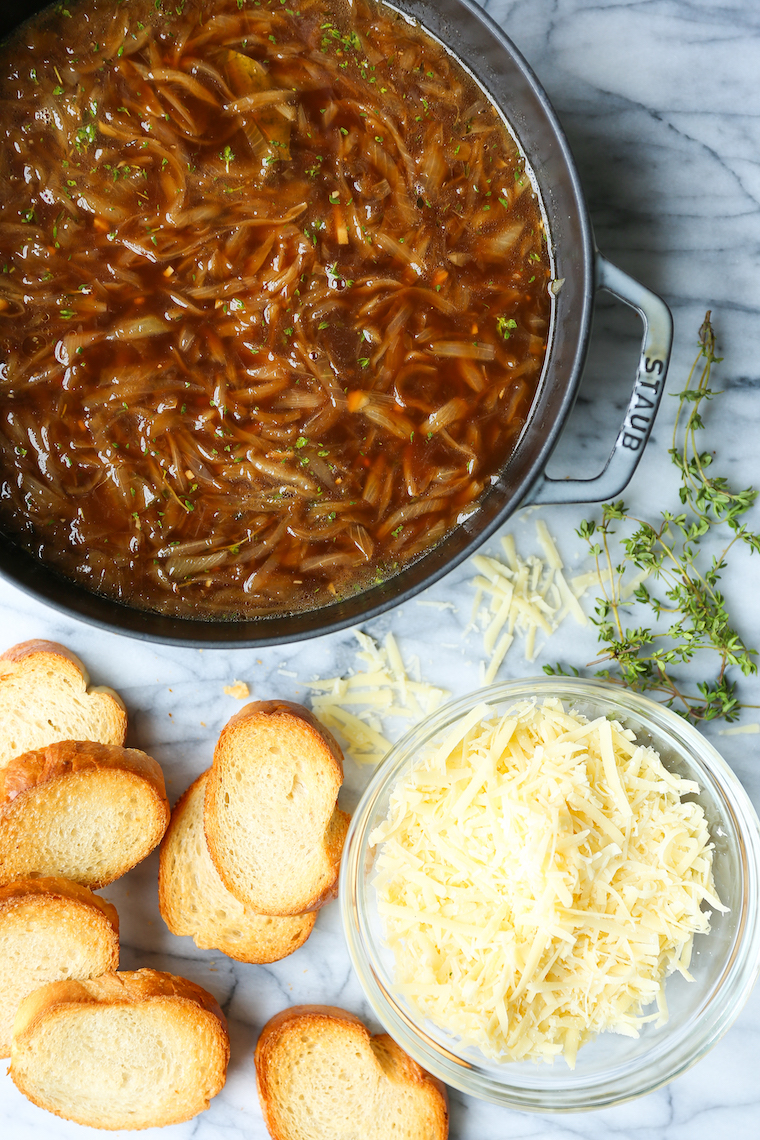 Now in all this Indy downpour, all I can think about is this one pot French onion soup.
The perfectly caramelized onions in the soothing oniony-beef stock topped with crisp, golden brown baguette slices smothered in all that wonderful combo of Gruyere and Parmesan cheese. How can you not be thinking about this?
And the best part? You make all of this in one single pot. I'm serious. There's no ladling. No transferring to ramekins. No fuss. No mess.
Nope, you can make everything in an oven-proof Dutch oven/braiser and pop it right in the oven, then serve.
Easy, cozy, comforting, and so so good. Rainstorms or not, this needs to be made. Like now.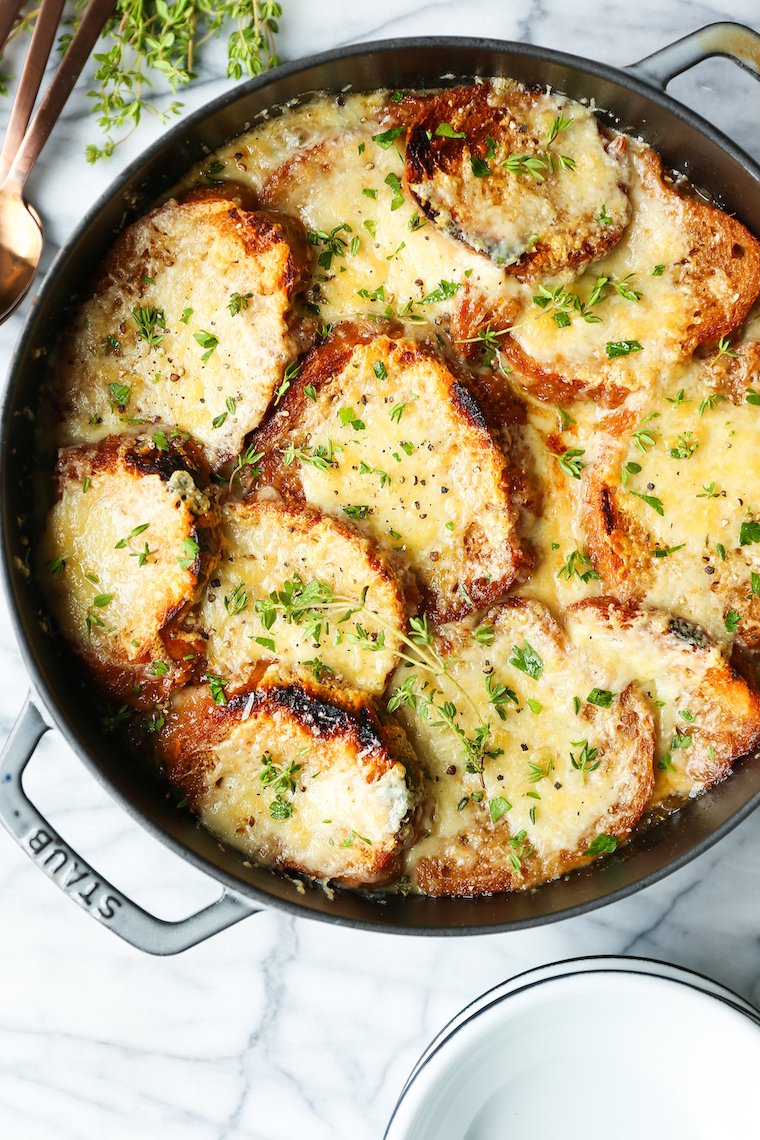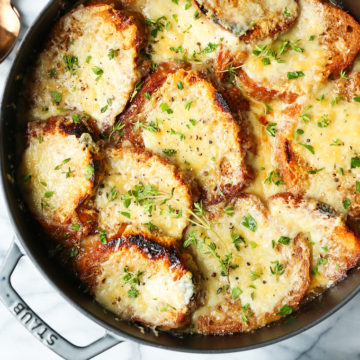 One Pot French Onion Soup
A no-fuss version! No transferring to ramekins, no nothing! Make everything into a ONE POT WONER and serve. So easy. SO GOOD!
entree
One Pot French Onion Soup
15 minutes1 hour 5 minutes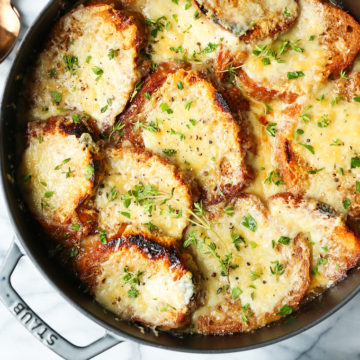 Ingredients:
12 (3/4-inch-thick) French baguette slices
1/4 cup unsalted butter
3 pounds sweet onions, sliced
3 cloves garlic, minced
1/3 cup dry white wine
6 cups beef stock
4 sprigs fresh thyme
2 bay leaves
2 teaspoons balsamic vinegar
Kosher salt and freshly ground black pepper, to taste
1 1/2 cups shredded Gruyère cheese
1/2 cup freshly grated Parmesan
Directions:
Preheat oven to broil.
Place baguette slices onto a baking sheet. Place into oven and broil until golden brown on both sides, about 1-2 minutes per side; set aside.
Melt butter in a large oven-proof braiser over medium heat. Add onions, and cook, stirring often, until deep golden brown and caramelized, about 30-40 minutes.* Stir in garlic until fragrant, about 1 minute.
Stir in wine, scraping any browned bits from the bottom of the stockpot.
Stir in beef stock, thyme and bay leaves. Bring to a boil; reduce heat and simmer, stirring occasionally, until slightly reduced, about 15-20 minutes. Remove and discard thyme sprigs and bay leaves.
Stir in balsamic vinegar; season with salt and pepper, to taste.
Top with baguette slices to cover the surface of the soup completely; sprinkle with cheeses.
Place into oven and broil until golden brown and cheeses have melted; about 3-5 minutes.
Serve immediately.
Notes:
*If the onions begin to burn on the bottom of the pot, reduce heat slightly and stir in 1/4 cup water.
Did you Make This Recipe?
Tag @damn_delicious on Instagram and hashtag it #damndelicious.
The post One Pot French Onion Soup appeared first on Damn Delicious.