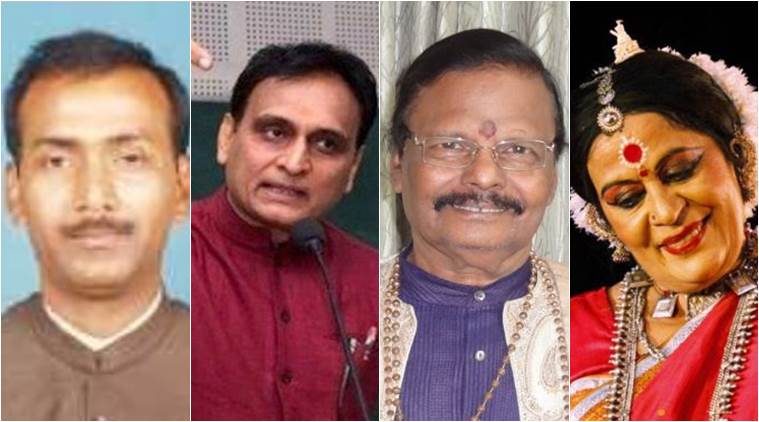 (From left) Ram Shakal, Dr Rakesh Sinha, Raghunath Mohapatra, Sonal Mansingh.
President Ram Nath Kovind Saturday nominated farmer leader Ram Shakal, professor and author Rakesh Sinha, sculptor Raghunath Mohapatra and dancer Sonal Mansingh to the Rajya Sabha. The Constitution allows the President to nominate 12 people with special knowledge or practical experience in respect to literature, science, art of social service to the Upper House. There are already eight nominees in the House.
Shakar, 55, is a three-time Member of Parliament from Robertganj constituency of Uttar Pradesh. The Dalit leader has served on several committees in Parliament including Labour and Welfare, Energy, Agriculture, Petroleum and Natural Gas.
Sinha, 53, is a professor at Delhi University's Motilal Nehru College. He is also a board member of the Indian Council of Social Science Research. He has authored several books including Swaraj in India: Quest for De-colonization of the Indian Mind, Biography of Dr K B Hedgewar and Philosophy of Social Revolution. Sinha is the founder of Delhi-based think-tank India Policy Foundation (IPF). He received the Deendayal Upadhyay award for work in Social Sciences in 2017.
Mohapatra, 75, is a sculptor who has been awarded the Padma Vibhushan (2013), Padma Bhushan (2001) and Padma Shri (1975). He also received the National Award for Sculpture at the age of 22 in 1964. He is currently the president of the Odisha Lalit Kala Akademi.
Mansingh, 74, is an Indian classical dancer and recipient of the Padma Vibhushan (2003), Padma Bhushan (1992) and Sangeet Natak Akademi Award (1987). Mansingh, who has lived in Maharashtra and Delhi, is also a choreographer, teacher, orator and social activist. She founded the Centre for Indian Classical Dances in 1977.
For all the latest India News, download Indian Express App
© IE Online Media Services Pvt Ltd